Alumni of the 1982
10h Std Section A class picture taken in 1980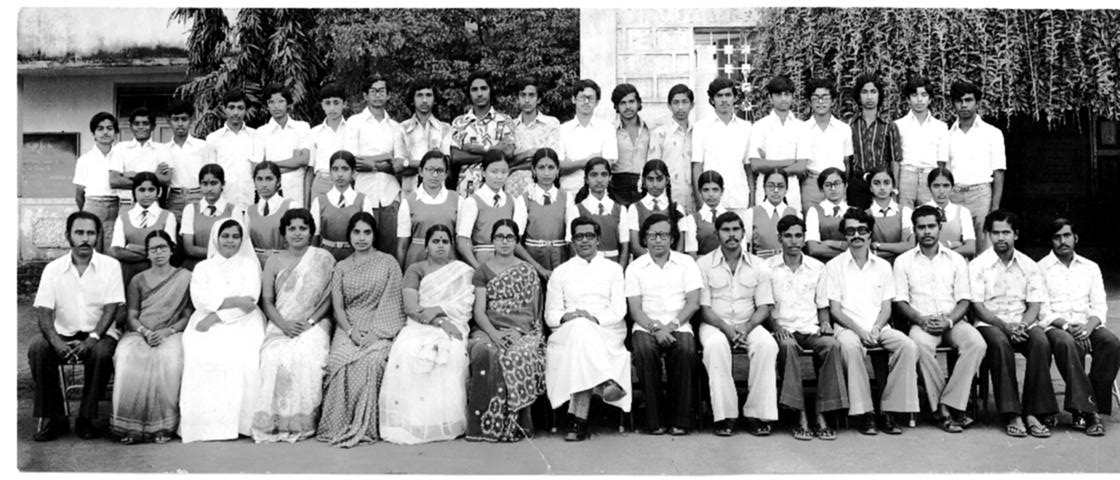 Thanks to Sushuma for sharing with us these pictures.

Aileen s doraisamy Hope you remember me. I am the Oriental looking Indian girl. I left RSK in the 11th std for Malaysia. I am now working in Malaysia as a Managing Director in a trading company. Those were the good old days in RSK. I would love to hear from you.

Anil leonard abraham Settled in Toronto Canada - Working as Software Consultant - Wife is an Occupational Theraphist - Have 3 Kids

Aparna

Aparna Currently am with the British Council in Chennai as the Promotions Manager for Examinations Services

Aprana This is Aprana , Appram Enna???.

Arun g Working as a Director with Dell Inc, based in Bangalore

Arun g

Babu Hi, am Babu. studied till my 7th(1977) at RSK. (Due to my dad's transfer had to shift to Vijayawada. ) Have some fond memories. Was staying in BHEL township. B3/38 -just across the road from school. At present am in hyderabad.

Balachandran d

Balasai commander in indian navy

Balasai s armed forces indian navy,play golf

Bhuvaneswari sundaram (Buddha)

Bhuvaneswari sundaram ( Buddha )

Colonel parthasarathy s Joined Army through NDA and served in Corps of Signals (communication corps) of the army till 2008. Commanded a battalion supporting a Strike Corps. Alumini of IIT Kanpur. Currently Heading Business for Singapore Telecom and located in Chennai.

Colonel s parthasarathy Hi! On finishing my XII std I joined the National Defence Academy at Pune. I was commissioned in to the Corps of Signals, Indian Army. I have done my B.Tech and M.Tech at IIT Kanpur . Days at RSK were great. would like to contact teachers, staff and colleagues. Presently i am at Bhopal commanding a signal regiment of the elite strike corps. married and have a daughter and son. love to hear from old friends. May 05

Deivasigamani g Hello

Deivasigamani guruswamy Hello ! Please use this email link if anyone wants to contact me, as the other one is outdated.

Ganesh vaideeswaran Hi, was in the Commerce Group and can never forget the wonderful days at RSK. Would be great to be in touch with anyone associated with RSK. Am in Dubai at the moment employed as Group Financial Controller for a leading Group in the UAE. All the very best folks.

Ganesh. v Hi, was in the Commerce Group and can never forget the wonderful days at RSK. Would be great to be in touch with anyone associated with RSK. All the very best folks.

Gokulram srinivasan naidu Working with a Private Airline, Abu Dhabi, UAE. Would love to get in touch with old mates.

Jessy Hai, I am in Dubai for over 15 years. Working for a leading firm. Married (to John) with 3 daughters -Sheryl ( 16 yrs), Rheana ( 15 yrs) and Rebecca ( 9 yrs)

Jessy john -

John v.i. (reggie) Would love to hear from old friends! I am in Dallas U.S. working for Texas Instruments after completing Electrical Engineering in UTDallas. Married with 3 daughters!!

Jonah stephen Director - Developer and Platform Strategy, Microsoft

Joseph a raj Trying to get in touch with old friends

Karthikeyan l Studied from KG to 1976. Joined back in 1980 to do 11th & 12th. Have settled down in Singapore. Presently working for NetApp, a company specialising in Enterprise Data Storage Management. Fondly cherish my memories of alma mater and the enduring friendship that developed due to this great institution.

Krishnan r Hi, I passes out from commerce group in 1982 batch. Am in Pune, working for Mahindras.

Krishnan r. I was in commerce batch. Now working as VP Finance in the TranSys Technologies.

N.sadagopan I am with a company called ALLSEC PERSOCOM (P) LTD, Chennai.Contact No : 9840143221

Narasimhan (lachu) Working in the area of wireless marketing in Dallas area (Texas) - have been here since 1988 after working a couple of years in Bombay.

Narasimhan (lachu) a Senior Consultant (Telecom), Dallas Texas USA

Padma chakrapani Hi, I am Padma from the commerce batch. Living in Trinidad right now.

Prabhakar c I am working for a marketing company (Vibration & Acoustics) in Bangalore as Branch Manager and love to get in touch with my batch mates

Prabhakar d.

Prabhakar.c presently stationed in Bangalore.

Radhika c.b Would love to get in touch with old time buddies.[cincinnati,oh]

Raj New email address

Raj Want to get in touch with old friends.

Rajashree varma Located in Dubai and working for Microsoft

Rajesh bekal Left Rsk in 1976 when i was studing in 8TH std in the month of Aug.hope to hear from all you guys of that batch,now in UAE with family.

Ramasamy MARRIED ,ONE SON AND PRESENTLY WORKING IN KUWAIT AS AN INSTRUMENTATION ENGINEER,STUDIED UPTO 8TH STD IN THE YEAR 1981-82.HOBBIES ARE READING MAGAZINES,WATCHING TV,INDOOR GAMES.A WONDERFUL SCHOOL WHICH I STILL REMEMBER PARTICULARLY THE SPORTS DAY&PARENTS DAY AND ALSO MY TEACHERS ,CLASSMATES,PRINCIPALS ETC.

Ramesh r.k

Ramesh rajagopal

Ramesh.s Working in indonesia .

Ramesh.s At present at chennai in software industry

Ramesk r.k General manager , marketing ... TOYOTA . Bangalore

Remha r Hi, Great to connect with my class mates after a long time...good to be back with you all!!! Working in the space of Higher Education - Industry-Institute Initiatives...currently in Chennai.

S balasai commander in indian navy

S.leela working as professor in sastra univ

Sadagopan Hi I am now in Dubai, working for a financial services company as investment consultant. It is a pleasure to remember the RSK days. Fortunately, I am in contact with two other RSKites in Dubai, viz, Ganesh.V and Shankar.S (Panju). We use to relish those good old days in memory.

Saradha mani r welcome to MADURAI temple city dial 0452 2333925

Saradhamani.r I am a LIC agent, my cell no is9994375783

Shameemullah.s

Shankar hai i am panju mittai.working with largest corporate sector at muscat as executive -service marketing.wife is an army officer.blessed with sweet girl swadhika.plannig to migrate shortly.flopped at eight standard.unforgettable days.keep in touch.

Shankar nair Data Communications - currently living in California with my wife Beena and my two sons Vivek, and Hari

Shanthi j I am at Chennai and my cell no. 9841732486. I am eager to contact any of our batch friends.

Sridhar j bharadwaj (j .sridhar) Standard Chartered Bank, Sydney Australia, Photography / Astronomy;

Sridhar n

Srinivasan n In Bangalore presently, work for HP

Sriram.v Its allways a great feeling when you think about R.S.K, Memories I always cherish. I am currently at new jersey working for a softwarefirm in H.R.D.my residence no is 2016598908 Better late than never lets get together.

Sudarsanan Good day mates. I left RSK in 1980 after my 10th. I am in Australia(Melbourne) I would like to contact my old friends. RSK is the Best

Sudha venkata ramana dr

Sudha venkataramana MD Paediatrics. Running Child Sai Kripa clinic at Chennai

Sujani menon presently at madras.

Sujani menon

Sunandha devi p hi, iam a math teacher teaching higher secondary at sboa chennai.I owe all my credits to rsk which shaped me this good.I remember bro. camilus, bro john of cross, mr. kathiresapandian chemistry teacherand many i dont remember names.Is there anyone from this batch?my classmates gowri debnath,sundari,balasai,parthasarathy,padma,aparnajessy,jolly,rosy.

Sushuma rao Administrator for a Consulting Engineering firm in Harriman, NY

Syed abid hussain I am in saudi arabia

Thiagarajan.p Hai I left RSK in the 7th std and returned to Malaysia.Now I trade the US stock market and now living in Singapore. My dear friend Joseph Amalraj, Ramesh, Deivasigamani when I saw the photo I was carried away to the wonderful moments I had in RSK

Zakir hussain I left RSK in 1980 after completing X standard. I was a Student of RSK from KG1 to X Standard. Now working in King Fahd University of Petroleum in Minerals in Dhahran, Saudi Arabia as a Secretary.


---
Total number of members : 71
Additions ? Changes ? Follow this link. Comments to: rsktrichy