Alumni of the 1986
1986 Class Picture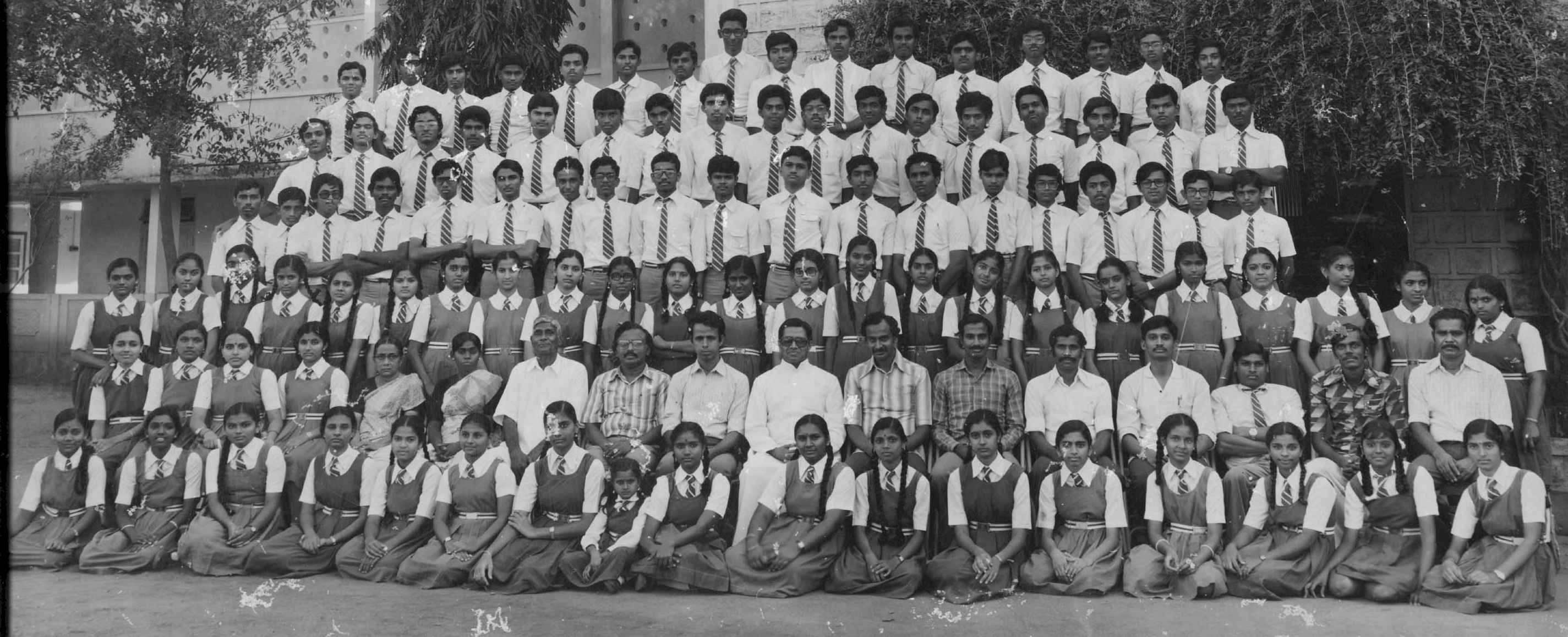 Click on the picture to see class 1986 photo with names and bigger view of the pictures. It will take some time to load because of the size of the picture(294K). But it is worth it. Special Thanks to Jitendran for sharing with us this picture.

Adres -

Amarnath m.b general practitioner in nuneaton, near coventry uk. left rsk in 9th std. was in secton a from 5th to 9th.

Amuthavalli t.g Associate Professor Department of Education, Sri Padmavati Mahila Visvavidyalayam Tirupati, Married to Chemical Engineer who is placed in Uttaranchal.Blessed with Three Sons.Elder Vignesh doing B.Tech 1 year in SNU NOIDA, the younger ones Nivethithan and Vinuthan in 10th(Twins). Proud to be an RSKian.Accidently came accross the photo. Felt excited.RSK gave me the foundation for my success. .

Anitha subramanian Programmer Analyst, Auburn Hills, MI - I'd love to hear from you guys.

Annil kumar.b hi....all.... i am ANNIL presently working for MADRAS FERTILIZERS LTD as deputy manager marketting.Missing rsk. i an presently posted at kottayam. KERALA

Arumugam r.t Living in Michigan, USA -- working for Ford. Married w/ 2 boys.

Asha natarajan Alternate email:asha_natarajan@trendmicro.com or asha@trendmicro.com

Avula sreenath

B.bindu .Paediatrician at Kottayam Medical College.Husband Madhukumar.Sons...Gautham and ganesh.Presently doing DM Neurology.Fond memories ...teachers,freinds andschool.

Benjamin working inkuwait,pleasegetintouch -my-e-mailadd-k_benjamin@hotmail.com

Benjamin kurien Residing in kuwait, working as project engineer. . There are few RSKkites in kuwait, You can reach on my cell -0965-9037845. or- e mail to benkurien@hotmail.com

Bhuvana nandakumar Cleveland, Ohio

Biju chacko Immigrated to US 1986. Graduate studies in NYU Medical Center, Allied Health Sciences. Married to Sayu, 2 Beautiful Daughters Nefia and Jacey. Currently working a Medical Consultant specializing in Sleep Medicine. You could reach me at 516-996-4611. 24/7

C.santhiya working as senior physiotherapist in BHEL trichy hospital.

David j d Presently Credit Manager with an International Loss Adjusting firm in Kuala Lumpur, Malaysia

David p loss adjusting

Derick jose Married to Sunita ... Have 2 kids Anand(1) ... real naughty chap /Veena(5) ...who sings well

Dominic rajkumar Hello 1986 Batch,this is Dominic.... Hope all of you are doing fine! Iam in UK, working as a GP ( General Practitioner) . I live in Hull with my wife Anita and daughter Catherine..RSK brings back pleasant memories,and has shaped most of us into what we are today... Please drop me a line folks..My email is: dominicr2001@yahoo.com

Edwin. p Finance Executive, based inChennai. I was in Commerce group along with Antonio,Benno, Sathappan,Meyyappan,Guru..... Love to get in touch with RSK BATCH MATES

Ganesh s Scientific Officer(Safety), Bhabha Atomic Research Centre, Chennai/hobbies=traveling,driving,adventures,browsing/About RSK=wonderful dreams ever can't ever forget

Hemavathi r presently at TUTICORIN.joined the group after the silver jublee alumni meet.email:hemavathi.rjs@gmail.com

Israel Hi guys! I've settled down in Vancouver, Canada and currently the Plant Engineer at River Seafoods Inc. I am married and have a three year old son. I'd love to hear from you guys!

Jayamohan k Live in San Jose, California. Studied in RSK until 9th. Would love to hear from folks here

Jeganathan r Assistant Manager/Corporate Audit, JEL, Singapore

Jitendran m. married Anita in 1998 and currently in the Bioengineering faculty at Arizona State University, Tempe, Arizona. I'd enjoy hearing from you.

John e cherian well left after 10std due to health concerns. was in hostel along with francis, Ganesh,Ramesh,Subash,Krishnakumar

Jonah stephen j Left RSK in 1982, working for Polaris Software Lab as Asst. Vice President

Joseph david Just updating my contact info. Mobile and WhatsApp number is URL: 60189050285.

K (kannan) Hello friends! I am a scientist at the Indian Institute of Horticultural Research,Bangalore.My husband also works for the same organisation.We have a six year old son Nithin..

K.r. Hi folks, I am K.R.Ramesh Babu - Called as 'KR' (artist). Worked in Escorts Ltd, Faridabad-2.5years,BHEL-Trichy-15years and Now Engg IT Consultant at Chennai. Married to Simi and blessed with son Rohit(8) and daughter Roshni(4) who also studied in RSK. Still I am in touch with Sathy,Sekar,Hanif,Dominic. Have evergreen nostalgic memories of RSK. Updated on 29-Aug-2007

Kalmady balasubramanya Nickname: Balu; Married to Chitra; Living in Malvern PA; Working for PwC as a Principal Consultant in Data Warehousing.

Kanchana Now in Pondicherry. Ilove my school and friends

Krishnadas . s Currently based in UK - have been actively involved in social development sector after graduating from TISS. Memories of RSK schooling are still alive & I do relish it & would love to get in touch with friends and teachers (esp. Rajkumar, Lloyd, Surrendra etc.) I also teach Public Law for under graduates in the Univ - so, I do remember your sense of humor !! Cheers !!

Latha maheshwari murali iam presently living in Japan ,near Kobe .My husband works for MHI and I have 9 year old daughter who is in Fourth grade. School memories are very special to me ,I remember the time I spent with my friends Vivilia ,Rekha, Ushavalli,Nalini.V,Nalini.M.i had wonderful teachers like DKPN sir, Mrs.Hemalatha ( biology) ,Rex sir,Rajagopalan sir.I wish i could see my friends again.

Latha maheshwari.m Hai, back in Chennai after 11 years in Japan. Have a daughter in 9 th grade.

Mala s I am now residing at thiruvannamalai. married to an opthalmologist, taking care of the administration of our eye hospital. i 've a daughter ,a son. my hobbies are painting,reading books. my school days are ever green in my memory.

Mammen Updated 30th June 2015 - Working In Saudi Arabia. Daughter in 3rd year engg. whatsapp is keeping the group connected closely

Manianan

Manikandan p Working as a Consultant with Adapco, Detroit, USA

Mohamed hanif

Mrb hi, This is Ramesh babu..and brother of Kalyan - who also studied at RSK(1985). Currently a senior manager in ANZ managing E-Business projects..Res:080-5462311..drop a line folks

Mrk This is Kiran.M.R.... I left school after 10th Std.... in 1984.... Friends drop a line.... Presently a consultant with New York Stock Exchange.

Murali b Consultant in cardiac anaesthesia, University Hospital, Staffordshire, UK. Pleasant memories of RSK. Unforgettable friends and teachers. Best wishes to all.

Murugaiah a t r Living in Chennai and currently running my own show in Engineering consultancy and some engg. products selling & servicing. Alternate Email: murugaiah.raju@england.com

Murugaiah atr my present email IDs: thermis@vsnl.net; murugaiah@rikies.com

Murugaiah.a.t.r Self employed in Chennai in the field of thermal engg. Hi friends do keep in touch.

Nalini Anaesthetist at Leeds, England. Proud to be an RSKite!

Nalini malarkkan Currently @ Seattle as Visiting faculty at Childrens Hospital and University of Washington

Nalini ramesh Presently in Seattle,USA

Nalini venkateswaran Specialist registrar in Anaesthesia @ Leeds Teaching hospitals, Leeds, England

Natarajan r Formerly known as Ananda Natarajan,our national athlete who incidently participated in the 1996 Atlanta Olympics.

Padmanabhan s Engineering manager at SGI, Mountain View, CA

Palaniappan r Left in 9th standard to Ranipet, Automotive Design Engineer. Will never forgot those days, Friends pl drop a mail to stay in touch.

Palaniappan. b Prsently as Asst. Resident Engineer, Mantgomery Watson Harza, Singapore. Left the school in my 9th standard and I have entered my name in my batch. Drop a line friends.

Palaniappan.m I am an exporter of Apparels. I left school in my 9th std and have filled up the year in which I would have passed out if I had stayed on. RSK was THE School. TOPS.

Paul j d Hi fellas, just found the new website. I am no longer with the Loss Adjusting Firm. I am now a partner in a Forwarding Company. I am now 38 but still single...confession...had a crush on Rajeshwari...but now she's married...wonder if she remembers watching Enakkul Oruvan in Kalai Arangam with Vijayakumar, another girl whom i forgot, and me. That was way back in 1985.

R.t. arumugam Living in Michigan, USA -- working for Ford. Married w/ 2 boys.

Raja panneer selvam .

Rajakumar s Hi guys. Left school in 1980. Currently in North Carolina. RSK days are evergreen memories- moments to cherish all life. Keep in touch.

Rajeshwari g Managing Editor in Frost & Sullivan Chennai. Have a daughter

Ramesh babu m Working as a head of consulting at ANZ information technology....learnt to play the guitar in college...still do some singing...miss all my great teachers

Ramesh babu.m I passed out in the batch of '86. My learning at RSK definitely ranks among the best years of my life. My heartfelt thanks and gratitude to all my teachers and the adminstration

Ramprasad, r Staff Scientist at Motorola, Inc., Tempe, Arizona

Rekha narendran Am working for Hewlett Packard , Bangalore . I love my school and I am proud of it.

Sachidanand vs I am settled in the US and came across the school web site today. Nostalgia and Guilt of not having kept in touch with a lot of people I grew up with makes me leave my email address. I used to be called Sachi.

Sameer nanajkar

Samson mammen Updated 12th May 2012 - Living in Yanbu , Saudi Arabia. My Daughter doing her 12th standard and Son doing his 6th Standard. Wife is High School Teacher.

Saravanan.d.m. buisness,chennai,travel,surfing,meeting old friends, being in rsk his still a memorable which can't be expressed in words-the banyan tree alone will tell the stories.....

Satyajit rao Projects Lead at TerraSim,Inc. in Pittsburgh, PA... married to Arati, have year old twins-Avinash & Ananya...If you contacted me at my old email address, and didnt hear back, do contact me again. I was getting swamped with junk mail and had to "restrict" my mail.

Senthil b

Shanmuga sundaram p i'm in saudiarabia

Shanmugha sundaram.g Presently working in ARAR, Dubai as coordinator. Blessed with 1 Daughter & 1 son. Remembering our old days makes me enthusiastic.

Shanthi janakar the best school in my life

Sivakumar j Web Strategist with a leading software company in Chennai.

Sivanandan k working with Chennai Petroleum in Technical Services as Dy Manager, visited the school a few months back, could meet Mr Rajagopal, Mrs Prema Juney (10th class teacher), sad to know that seventh class teacher (Mrs Shanthi - wife of Mr Ponnurathinam) expired. Rajagopal sir is quite old- full white hair, also met DKPN sir near the State Bank, nice to remember you all. could not identify baby zachariah miss - very much changed (Biology HOD now), SUPW sir is the same still. Rebello miss (II std class teacher) retired. Rani in primary school still there. Bro Augustine is in Yercaud. I have two daughters - Bhargavi (8 years), Ashwathi (6 months), residing in Jawahar Nagar, near Perambur.

Sri ranga prasad.k i'm intio constructions and real estates development in Hyderabad,India. R.S.K without doubt is the most lovable to heart in anybodies life and espacially to me

Srinath p hi friends, after 14 years of sailing round the globe (Merchant Navy),currently working for New Mangalore port trust, Mangalore as Marine engineer, married to sudha, blessed with a 3 year old daughter --Gayathri, missing the great moments of school life.

Srinath.p After 14 years of sea life(Merchant Navy) Currently working for New Mangalore Port trust at Mangalore.Married to sudha, blessed with a daughter-Gayathri 3 years old.Missing the great moments of school life.

Srinivasa bharathy n Presently heading Product Marketing at iSOFT, a healthcare solution provider based out of Chennai.

Sriram muraleedharan Software Consultant, Chicago

Sujatha - now in New Jersey, incidentally was also one of the former VP of OSA in 1990-91.

Sujatha ramani( r. sujatha) Working with Hewlett Packard in Bangalore. Have a daughter, who is 2 1/2 yrs old.

Sujatha.k Hi friends! I am with the Indian Institute of Horticultural Research,Bangalore.My husband also works for the same organisation.We have a six year old son Nithin.

Sujatha.s Hello '86 batch friends please keep in touch

Suma batni Hi, moving to UAE soon. Have a 11 year old daughter

Sumesh babu. c Hi Folks! Currently in Bangalore, servecing for a MNC-ICI India Ltd. Married to Anita & have a 6 yr old son, Nikhil. Great Nostalgic memories to cherish from RSK. Keep in touch

Surendra prasad currently working for government of dubai and my sincere thanks to my school teachers for what i am . i am blessed with two kids mruthunya and mugunth

Suresh babu MARRIED,WIFE-KAVITHA ,ONE SON-PRAVEEN BALAJJI.PRESENTLY WORKING AS AN INSTRUMENTATION AND CONTROL ENGINEER IN KUWAIT.LEFT SCHOOL IN THE YEAR 1982.HI FRIENDS,PLEASE KEEP IN TOUCH.MY MAIL ID IS BABU_SURESH20@YAHOO.COM

Suresh kumar.r SELF EMPLOYED,having a company manufacturing automobile components and a trading company dealing with machine tools located at chennai,the foundation we got from rsk was solid ,i finished my 10 th class in 1984 and did my dme,my nick name in class was " STATES ".

Suriyanarayanan nagarajan

Swapna . s Have been travelling widely with my husband and 7 year old son. Currently living in England.

Usha valli. s Doing PhD in the US. All I can say is " I MISS THOSE FUN FILLED DAYS."

V,nagarajan Sr. Sales Manager, Star Health and Allied Insurance Co. Ltd. URL: 919349477095

V.nagarajan Sr. Sales Manager, Star Health and Allied Insurance Co. Ltd. URL: 919349477095

Vaaras CONTENT SUPPRESSED. IP TRACED.

Varadheesh

Varadheeswaran ck Business Analyst, Chicago, USA

Vasuma

Venkat krishnan Currently working as a System Analyst with NIC, Ministry of Information Technology, Govt. of India at Chennai. Fond Memories and our school. Missing those good old days.

Vinod .c.t Manager Maintenance/Projects ,Cholayil Group(MEDIMIX The Soap that Cares), Chennai, Married, blessd with a daughter 3 1/2 years old as on 08/2003. RSK has made us what we are.

Vinod.c.t Edited on 23.11.2008. At prenest tring to Manage Few Business At Dubai. Settled at CHennai. Recently Shifted to Dubai with wife Usha.V.K, Daughter Vinusha.C.V (9years) and Son Vinush.C.V (5 years). I do have a Yahoo ID "asvishaka@yahoo.co.in"


---
Total number of members : 102
Additions ? Changes ? Follow this link. Comments to: rsktrichy