Alumni of the 1988
10th standard class photo with Mrs.Nirmala (Maths teacher) and Mrs. Prema Jeyadevan(English Teacher)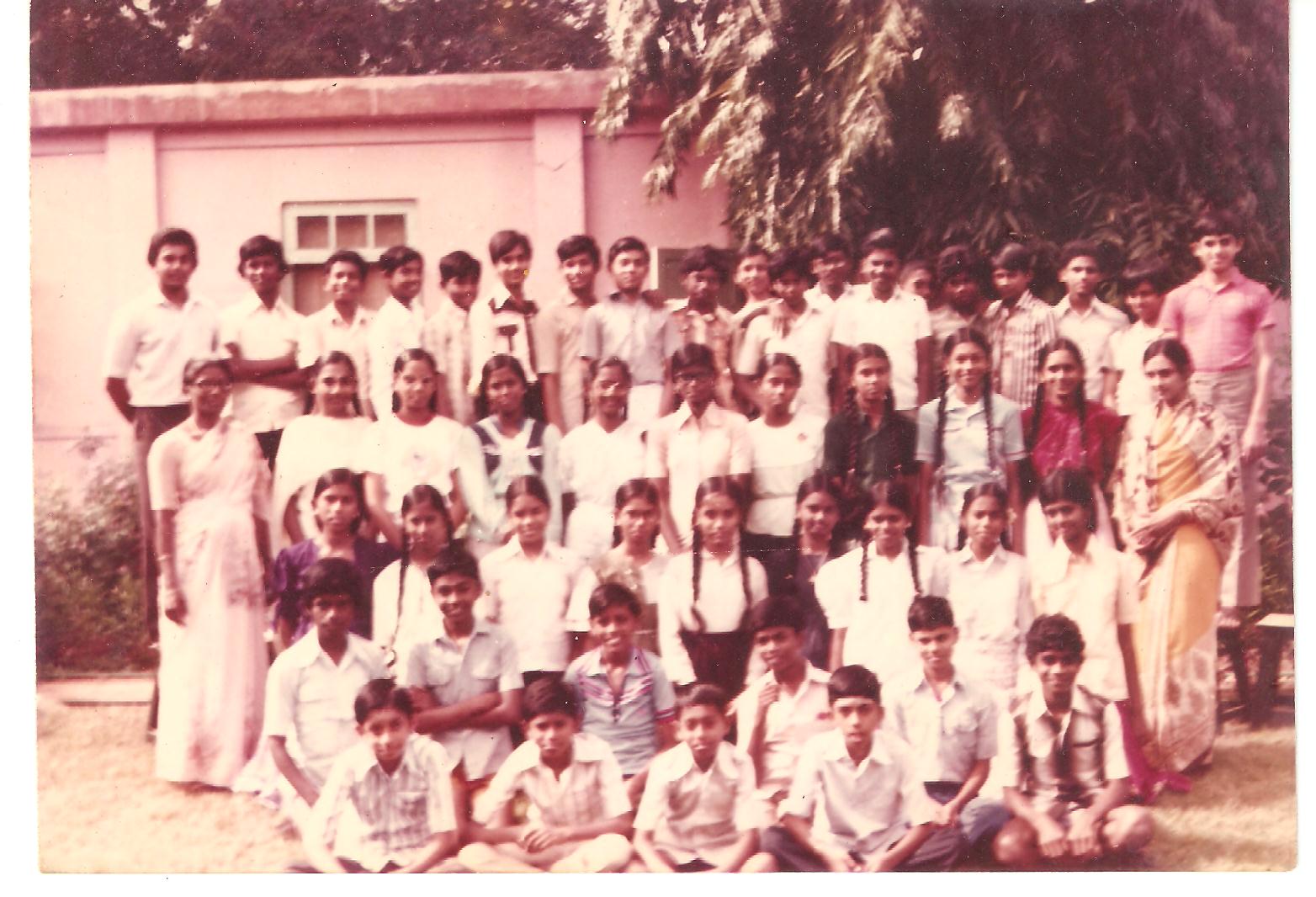 Special Thanks to Cynthia Magdaline for sharing with us this picture.

Ajithkumar balan

Anil mathew I am with Galfar Group in Muscat.Looking forward to hear from all of my Batch Mates

Anita working in a government department at Kannur

Anita jagannath

Anu hassan

Ayjaz hussain b .s I left RSK after My 10th in 1986, currently working in kuwait. aluminium extrusions

B.senthil kumar WWW.REBA.TV

Balakrishnan Hi Folks, Settled in chennai...contact me @9840984010

Balakrishnan.g Hai, I am currently in Abu dhabi in Petroleum Service industry. My number 971 509839277

Balasubramanian.v hi my dear old freinds hope u remember me working in adnoc like to meet all my freinds

Baskar s I run a Business out of Singapore which spans in various countries. Can be contacted @ 65 81234287

Bindu t

C venkatesh Manager - EHS, Coimbatore

Cynthia magdaline Hi friends, I studied till 10th std in our school. Presently in Chennai.

Devanathan n I am currently working with iSOFT, Chennai as a Software Architect...

Dorene Training Manager,chennai, reading and listening to music, would like to meet my batchmates

Ganapathy (gannu) sankar My RSK times is a treasure of memory. All mortal glitter is but the dust for it!!

George mathew Hi, was in the commerce section in 11th and 12th. I was better known as P. G. Mathew joined RSK from the 5th standard E-sector. Now I work in the medical transcription industry, settled in Pune. Married to Susan. I felt nostalgic about RSK and googled it and found this page. Just to give u a hint I was the naughtiest guy in class though no less naughtier now. call me if anyone remembers me 09526466008 24x7.

Guruswamy Hi This..is Murugesan G. am in the bay area..married with one kid who is 4 years old..would like to contact old classmates..

Harish vishwanathan Personal Home Page

Jagaram s s orthopaedic surgeon practising in Trichy. Daughter Roshni (3rd standard) and son Vallabh(KG II) are continuing the RSK tradition

Jagaram s s Orthopaedic surgeoan practising in Trichy. Daughter Roshni doing her KG II at RSK. Son Vallabh will join her at school in a couple of years.

Jayashri s Working with Cognizant Technologies, Chennai

Jemil cheriyan working in ibm banglore, missing all rsk school mates and teachers

John britto selvaraj I left RSK after IX std. Right now I am in US working as a software engineer. It's been great remembering the old memories.

Jyothilakshmi.k.p I am with Wipro Technologies, Bangalore

K.muthu krishna I miss all my class mates,I left R.S.K after my 10th standard.I own a hotel consultancy firm called Green Leaves Inc. based out of bangalore.My contact numbers are 99805 77488 and 99800 29797 URL: www.greenleaveshotels@gmail.com

K.t.sajee Migrated to the US in July 2006. Presently living in Melbourne/Florida. Love to hear from you guys. Telephone : 001.321.426.9577

Karthika Freelance Editor & Consultant

Kishore kumar l I left RSK after completing my 10th STD, I am proud to be a student of RSK, remember all u guys

Koshy c george Working at Christian Medical College, Vellore (pediatrician), Wife - Lydia John (physician).

Madhava krishna Hi Friends, Working in Abu Dhabi in the United Arab Emirates as a Senior IT Project Manager for a company specializing in Specialized Economic & Industrial Zones. Love to hear from you ...

Madhu ms Always have pleasure in meeting my School mates , Now in Bharti Telenet Ltd ,101,Santhome Hi Road ,Chennai . Mobile -9840086315

Mahalakshmi Home maker....Riyadh.

Manoj kumar Personal Home Page

Manoj kumar v k iam manoj vk would like to know all your whereabouts do reply

Meena prabhakar I am in Kuwait. My husband is working as Technical Manager in a leading fabrication Company in Kuwait.

Mugu mugu mugu mugu mugu mugu mugu mugu mugu mugu mugu mugu mugu mugu mugu mugu mugu mugu

Murugesan guruswamy

Muthumari Computer Consultant in states

Nataraj

Natarajan rangan

Nirmal daisy I am now a permenant resident of Chennai ad practicing as an Advocate in Madras High Court.

Prasanna uppaladadium URL: http://uvbp.tripod.com

Praveen thampi lives now in Pittsburgh, PA, USA

Priya kannan A Research Scientist working for a subsidary of Dupont (Des Moines, IA)

Radhika @pune,running my own business, would like to keep in touch with all my school friends

Raja sahaya sukumar vargheese I work for Airtel at Chennai.The Best Part of my life was at RSK,Good Old Day,Ever Green Memories to Cherish

Rajesh a now a doctor working in Radiology at University of Leicester associated teaching hospitals in the UK.

Rajeshwari pm Technical Assistant, NIOT, Chennai

Rajkumar v I am with IBM living in Rockville, MD

Ramanathan v Marketing Director at Eli-Lilly Malaysia, Look forwrad to hear from all friends of RSK

Ramanathan velayutham I am a Malaysian but studied in RSK for 13years and now I am a Pharmacist in Malaysia. I would like to get in contact with all my hostelmates and classmates, I suppose most of them are in US. My Address is Lot 4, Jalan 13/6 46200 Petaling Jaya Selangor Malaysia 46200

Ramapriya Housewife, proud mother of 2 kids. Singapore.

Ramasubramaniam gurumurthy Hi, I am now with Cognizant Technology Solutions, Chennai. After a stint in Quality Assurance in Construction, I shifted to IT and now working as a Software Quality Assurance Professional. Currently in UK, will be back in India in April 2004

Ravi . n. sanker Into bussiness , married to bindhu ,2 kids ,akshara, adhvaydh settled at Kollengode (PALAKKAD) contact : 04923 243421. My mates BALA , SATHYA were are u please contact

Ravi k 11th and 12th at RSK. MPCB. Working for Autonomy Inc in pre-sales, based in Laurel, MD

Robert johnson Dear friends, I am based in Dubai, United Arab Emirates for the last 10 years. I am into Sales and Marketing and working as a Sales Manager for a multinational printing firm. Married to Beena (costume designer) and blessed with 2 kids named Kevin & Eric.

Sajee.k.t Hello guys, Presently living in Florida. Love to talk to our old RSK'ites. My number is 001.845.553.0938

Salo mathew I am currently working as a regd nurse in New Jersey,U.S.A.Married with a son-Chris.Would like to hear from all my batch mates

Sathyabhama m currently in trichy

Satish

Senthil raj my number 9840448949 living in chennai good old friends contact me

Senthil raj s 7397297910 living in chennai

Senthil raj s i left rsk in 10th std good old friends murugasen, ganapathy, robert, alice, jayashree, sujatha,

Senthil vel r.s I left RSK after completing 10th (1986), joined Boiler Plant Higher Sec. School (87-88), then joined Shanmugha (SASTRA). Now setttled in Australia after 11 years in Muscat and Dubai. Working for SKF as Division Manager for Australia and New Zealand service operations. Contact me through facebook, love to talk to my old buddies. Still carry a lot of old memories

Shailaja s Family, work...life is busy, but there is always time for friends.

Shibu samuel Currently working with Wipro Technologies, Chennai

Sivashankar r.c. Graduated from REC-T (ECE) in 1992. Now in NJ. @201-981-3382

Srinivasan s Personal Home Page

Srinivassan.k.t Iam currently with Fresh and Honest Cafe Ltd., as Branch Manager, Stationed in Coimbatore

Sripriya i am currently residing in united arab emirates , abudhabi , i left rsk after completing my IX grade ,joined boilerplant girls higersec school ,i am a house wife

Sudarshan t Now a Doctor (Radiologist) working at Ninewells Hospital, Dundee, Scotland UK.

Sudhir menon A slide show of memories scrolled by when I saw all those familiar names & my vision got blurred from tears of joy, a byproduct of nostalgia, and a sense of pride to have been a part of an institution which produces far less fuckups in life... comparatively. 14 years of memories from within the dusty pages of life was revived. Guys 'n Gals....better late than never...keep in touch..

Sujatha presently working as a Project Manager in a software company

Sujatha r Hey Folks! I have been called many names by you guys, if I remember, the last I was called Dolly. I left our RSK after finishing 10th Std. Now I am a Software Engineer in IBM Research lab based near London, UK. I can't forget our princi -Pal, Jabamalini, our Hindi teacher (Dungarwal sir- not sure if I got the name correctly), Rex sir (who used to count until 5 when he gets angry), Our school bus gang - our Nuts (Nutrajan), Rajesh, Rajan (Rajee's brother- only left handed person in our class. I used to be very amazed how he managed to write using left hand, but now in UK most people are left handed.),Usha (i used to call her P.T.Usha). I must say the days at RSK are my best unforgettable moments of my life. Please be in touch.

Sujatha. s Hey, I am Sujatha married to Ramesh who is a computer engineer. Iam Working as a Project Manager at New Jersey , U.S

Sukumar Working in Chennai,Tamil Nadu,india

Sumonta mazumder When is the next reunion :)

Sundaresan muthumari Cinncinati, Ohio is my new coordinate

Sunil d Hi,I am now in chennai working for FCI OEN Connectors.My family includes Sumy(RSK Class of 1992) and Tharun and Thanushree.Life is RSK was the best learning ever had

Sunitha Dear Friends, I am currently based in Pune. Am still trying to get used to the place. Do mail me if any of you are likely to pass by!

Sunitha panchnathan Hey folks - I am presently in the land of the thunder dragon - Bhutan - husband posted here with the Indian Military Training Team. Would love to get in touch with as many friends from 1988 batch as possible - Radhika where are you???

Surender sharma I am currently working for Client Network Services Inc., Maryland USA. Anybody who knows me feel free to send a note.

Sushma joshi

Thiruchendhil arasu Working for a Software company in Chennai

Tojo john paramby I'm taken care of India operation for a San Jose based startup firm which has a development center in Bangalore. We are into development of third generation edge routers. I left the school after my 10th(1986).

Umashankar p Working as Manager - Plant Breeding with Reliance Life Sciences at Kakinada in A.P. Love to get in touch with batchmates. Proud to be an RSKite

Umashankar.p Working as DGM (Vegetables Research) in a seed company at Hyderabad

Veerappan ar faculty of Mechanical Engg at National Institute of Technology, Trichy

Venkatesh c Working as Manager - EHS, a MNC located at Coimbatore

Vidhya rajaraman currently at Columbia, MD working with Cienna.

Vijaya babu Working as a Consultant in Fort Wayne, IN, USA.


---
Total number of members : 94
Additions ? Changes ? Follow this link. Comments to: rsktrichy