Organization
Click here to add/modify your entry in the alumni list.
R.S.Krishnan Higher Secondary School
Kailasapuram Township, Trichy 620 014. Tamil Nadu, India.
http://www.rskschool.com
RSK Golden Jubilee Celebrations (July 11,12 and 13 2014) - Registration

Dear Alumni,
Are you attending the Golden Jubilee Celebrations? If yes, have you registered for GAGA?
Register here today!!!!! Follow these 5 steps to register:
1. Got to the GAGA registration page http://osarsk.org/form/gaga-self-online-registration
2. To start the registration, sign in with your OSARSK credentials or create a new user ID
3. Complete your registration form and check your mail box (spam as well) for your confirmation mail
4. Deposit a cheque/transfer money to the bank account quoting your registration number (details will be there in the mail you get)
5. In a weeks time you will get the confirmation from the GAGA team on the receipt of your money
Golden Anniversary Gala by Alumni (GAGA), the dates for which are July 11,12 and 13 2014. If you are on Facebook and are interested to be a part of the various discussions that are ongoing, you might want to become a member of the RSK Alumni Group page here: https://www.facebook.com/groups/RSKalumni/ . To be updated on all latest information on GAGA, please keep referring to email updates on the OFFICIAL Email Distribution List of the OSA and RSK Alumni: Yahoo Groups . For this, please subscribe to this email Group TODAY by sending a note to: rskalumni-subscribe@yahoogroups.com.
We are planning some really interesting and exciting things for the Golden Jubilee, which will start with OSCAR (July 4th and 5th, 2014). OSCAR 2014 will be a Curtain Raiser for the GJC, which will be followed by the Grand Alumni Celebrations on July 11, 12 and 13.
Accommodation is being arranged for people coming from outstations. The registration page for alumni attending the event will be available shortly, and the announcement will be made as soon as the site goes live for people to start registering.
We are trying to reach out to as many people as possible. In the process, we are also trying to get Batch Champions, who will take care of communicating to their respective Batches. If you would like to be a Batch Champion, please reach out to mail2jose.alex(at)gmail.com (Joseph Alexander). We are also trying to reach out to as many old and senior teachers as possible. If you have contacts of old teachers who retired or resigned from RSK, please reach out to shankar14revi(at)gmail.com (Revi Shankar) with the details.
If you have any questions or need any clarifications, please reach out to girijapoduval(at)yahoo.com (Girija), mk.greenleaveshotels(at)gmail.com (Muthu Krishna) or to Vijay_premkumar(at)yahoo.com (Me). As mentioned earlier, all official communications on the GJC will be made on the RSK Alumni FB Group page and on the RSK Alumni Mailing list. Please replace(at) with @ for all email address.

Here is the tentative agenda:
July 11, 2014 - GAGA launch at 4pm and registration at RSK. Followed by cock tail and dinner in Trichy town, preferably, SRM hotel to familiarize with old faces and new ones too
July 12, 2014 - Meeting at RSK, 10am onwards, celebration and entertainment followed by hi tea, lunch, tea, and dinner
July 13, 2014 - Going out for a picnic
To stay up dated on the GAGA, kindly register at http://osarsk.org/ and https://www.facebook.com/groups/RSKalumni/. Keep looking out and asking for more updates and pleasant surprises!
vijay_premkumar (at) yahoo.com
Class of 1996 - Secretary, GAGA
More RSK News
---
---
---
Be Just and Fear Not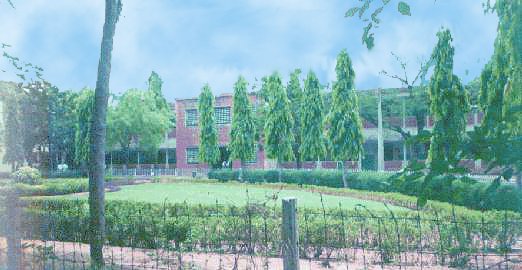 The RSK Higher Secondary School, located in the premises of BHEL Township, 14 Kms to the east of Tiruchirapalli, in Tamil Nadu, India is the subject of this page. Founded in 1964 by the BHEL as a means for providing quality education for the children of the company's employees; subsequently, the school opened to students not connected to the BHEL It was known as Boiler Plant Higher Secondary School. The school was named R.S. Krishnan Higher Secondary School in 1968 after the death of the distuinguished R.S. Krishnan, then Executive Director of the BHEL, India's premier Heavy Electricals company, it is being run by the Monfort Brothers of St. Gabriel of Paris until 2006, when the non-profit foundation headquartered in Singapore Global Indian Education Foundation took over the management of the school. RSK is a school of national reckoning. More than 4000 students school in this wonderful institution. It lays spread across three different campuses - the B, A and E sector. Of these, the B sector campus is the largest and houses the "main" school.

RSK follows the syllabus of the Central Board Of Secondary Education, with the Tamil Nadu Board of Secondary Education syllabus as an alternative for grades 11 and 12. The school has a strong alumni network and an association called the Old Students' Association, which organises the biennial cultural festival OSCAR (Old Students' Celebration At RSK). There is also a very active parent-teacher association.

If you are an RSKite, please get your name listed in the alumni page. Click here to begin adding your name and allied details to the page. Also sign up to recieve emails from the egroup rskalumni (which has the role described in the FAQ page).You can also contribute a great deal to this page by spreading word about it around. Get as many RSKites as possible to get listed in this page.
RSK Mailing List
RSKalumni - contact all the rsk alumni using this group email.

Individual Batch Mailing List
1983, 1986, 1987, 1988, 1989, 1990, 1991, 1992, 1993, 1993 12B, 1994, 1995, 1995 10 F batch , 1995 commerce group, 1996, 1997, 1997 12D, 1998, 1998 Rskgroup, 10 D 1998 batch, 10 F 1998 batch, 1999, 10th std B sec in the year 1998-1999, 10th std E sec in the year 1998-1999, 2000 commerce group, 2001, 2003 12D, 2004, 2004 E section, 2005, RSK Mentor, and rsk students living in Chennai
Alumni list by the year
Year you graduated or would have from RSK